TCB-Cruise 2023
Triest – on Sea – Katakolon – Piraeus – Kusadasi – Istanbul – on Sea – Korfu – Bari – Triest
Italy – Greece – Türkiye
27.05.-03.06.2023
WELCOME ELVIS-FANS!
The original musicians of Elvis Presley live. The King's best friends up close. A cruise ship of the highest category. And a one-week trip to the most beautiful places in the Mediterranean Sea. These are the ingredients of the TCB Cruise, a cruise that honors the greatest entertainer of all times in an inimitable way. When the MSC Splendida leaves the port of Trieste on May 27th, 2023, a dream and travel through time begins for the passengers. Never before have been more friends and musicians of Elvis Presley gathered on one ship. The Elvis world has never been more completed. And never before have fans from all over the world got the chance to get so close to the King's closest associates.
The TCB Cruise brings the musicians together who worked with Elvis in the studio in the 1960s and toured in the 1970s
Featuring: From the Stamps Quartet – "Gospel Music Hall of Fame" member and Elvis bass singer Larry Strickland, the legendary Holladay Sisters together with Donna Rhodes, who accompanied the King's greatest hits from 1969 onwards, Elvis' pianist and arranger Glenn D. Hardin, Nashville super drummer Paul Leim and Dennis Jale.
For the first time, a "true" Presley will accompany the TCB cruise as a "special guest": Elvis' cousin Donna Presley will talk about her time at Graceland.
We are very pleased that Donna Tutt, the widow of legendary Elvis drummer Ronnie Tutt, will be there and will tell many stories and anecdotes from her touring life with Elvis and Ronnie.
The biggest sensation on board, however, is Linda Thompson. The longtime Elvis-love is joined by her brother, close Elvis friend & bodyguard, Sam Thompson. On the TCB Cruise, Linda will now for the first time – together with Louise Thompson – talk about what is probably the most exciting, but also the most bizarre time of her life. She will raise a legend for the fans that will probably never happen again in the music world.
Program items are: concerts, meet & greets, autograph sessions, photo sessions, talk shows, Elvis cinema & disco
THE ORIGINAL MUSICIANS OF ELVIS & DENNIS JALE
Those fantastic musicians und Special guests are waiting for you!
Linda Thompson
Originally from Memphis, the former Miss Tennessee met Elvis in 1972. Elvis was immediately "on fire" with the extremely cheerful and funny young lady and the two became a couple. For more than five years – until 1976 – Linda was always at Elvis' side.The long time Elvis-love will be accompanied by Elvis close friend & bodyguard Sam Thompson. On the Cruise Linda – together with Louise Thompson – will be talking about the most exciting but also bizarrest time in her live. She will rise for her fans a legend that the music world never has seen before.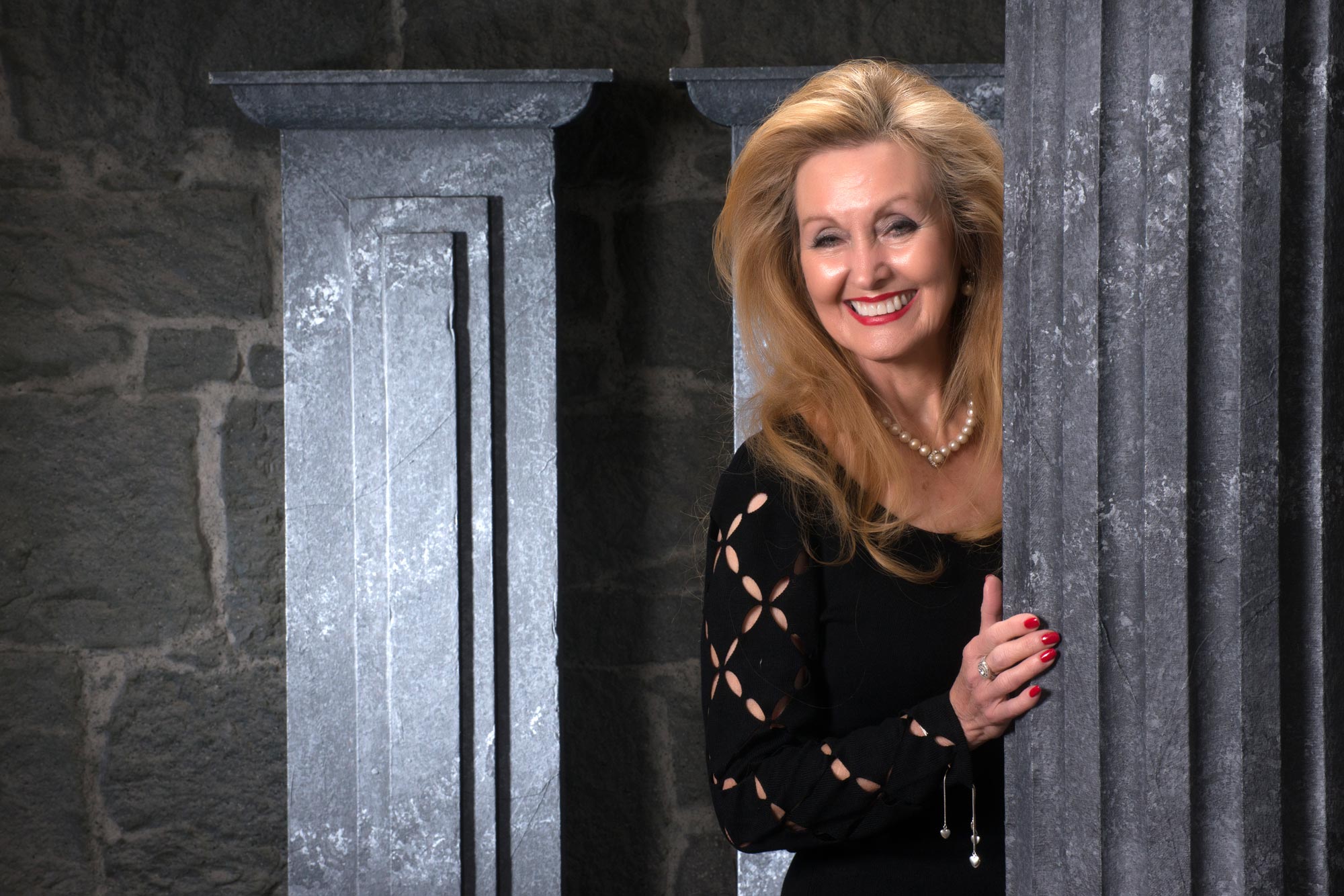 Donna Presley
On board will be a "real" Presley: Donna Kay Presley. Elvis first cousine grew up at Graceland and the Circle G Ranch and lived there until her wedding. Donna will have many new stories to share with the fans from growing up around her famous cousin Elvis.
Ginger Holladay & Donna Rhodes
1969 – American Sound Studios in Memphis, Tennessee – Elvis Presley was working on his mega comeback singing hits like "Suspicious Minds", "In The Ghetto" and "Burning Love"- Everyone knows these legendary Elvis songs, The talented Holladay sisters and Donna Rhodes recorded with Elvis on some of his greatest hits of the 60s and 70s and wrote music history. The girls also recorded many other big hits with great stars like Cher, Johnny Cash, Jerry Reed and Dolly Parton.
Donna Tutt
Donna met legendary Elvis drummer Ronnie Tutt on a 1973 flight from LA to Hawaii. Just a few months later, Ron & Donna were married and remained so for over 49 years until 2021. Donna accompanied the Elvis entourage to the last concerts and will tell us stories and anecdotes from her life with Ronnie & Elvis "On Tour" up close and authentically.
Glen D. Hardin
The man at the piano arranged countless world hits for his friend Elvis Presley – including "The Wonder Of You", "Suspicious Minds" and "Bridge Over Troubled Water". But Glenn D. Hardin has been a popular musician since 1962. He has shared the stage with Sammy Davis Jr., was in the studio with Sonny & Cher and is friends with Tina Turner. Elvis Elvis only once said to his bustling piano player: "The wildest guy in my crew, is Glen D. Hardin, too!"
Dennis Jale
Dennis Jale is one of Austria's most famous Rock'n'Roll-entertainers. In the mid-90s, he founded the Jam Gang together with guitarist Goran Mikulec. One of the most successful shows in his tight touring schedule is the Rocking Christmas Show with the Sweet Inspirations, the original backing vocals of Elvis Presley. Since 2003, Dennis Jale performs with the TCB-Band, the original line-up of Elvis Presley in Austria's largest concert halls. But Dennis Jale also wins as a songwriter. On his CDs you will find both reinterpreted covers and self-composed songs that carry the diverse musical thumbprint of his multi-talent.
Larry Strickland
In 1974 Larry Strickland became a member of the legendary gospel group "JD Summner & Stamps Quartet". This also meant that Larry was immediately on the road and in the studio with the "King of Rock and Roll". He accompanied Elvis on his last recordings – the Jungle Room Sessions – at Graceland and was "Live on Stage" with Elvis until his last concert in June 1977!
Sam Thompson
Sam was a police officer in Memphis in 1972 when he was hired by Elvis to be his personal security chief. No Elvis on Tour photo that does not show Sam Thompson on the right, left, or behind the King. Sam worked for Elvis until his death in 1977. After that, he then graduated from law school and became a judge, working in Las Vegas, Nevada until his retirement in 2010.
Paul Leim
The from Nashville, Tennessee originated drummer has been for 40+ years the hit drummer to the stars, TV shows and Movies. Playing on superhits for Shania Twain, Kenny Rogers, Barry Manillow, Faith Hill, Diana Ross, Whitney Houston, Patrick Swayze or Lionel Richie and kept time at 25 Grammy albums. Live, Paul played for Tom Jones, the big screen show "Elvis the Concert", Neil Diamond or Lynda Carter.
DIE ROUTE DER TCB-CRUISE 2023
CRUISES IN THE WESTERN MEDITERRANEAN SEA
Whether it's Italy, Montenegro, Greece or Croatia, a Mediterranean cruise lets you experience the best of the Mediterranean in one voyage. Discover numerous cultural and historical sights on a dreamlike cruise.
Triest – Katakolon – Piraeus – Kusadasi – Istanbul – Korfu – Bari – Triest
WE SET SAIL!
Impressions from the MSC Splendida.
EARLY BIRD
Booking till 31.10.2022
Price per person
Inside cabin
4 Persons € 999,-
2 Persones € 1.099,-
Outside cabin
2 Persons starts at € 1.299,-
Balcony cabin
2 Persons starts at € 1.399,-
Junior Suite
upon request
NORMAL PRICE
Booking per 01.11.2022
Price per person
Inside cabin
4 persons € 1.099,-
2 persons € 1.199,-
Outside cabin
2 persons starts at € 1.399,-
Balcony cabin
2 persons starts at € 1.499,-
Junior Suite
upon request
TCB Event-Package
Welcome aboard the TCB CRUISE 2023
The event package includes:
Two concerts

The Concert Show (Early Admission and Preferred Seating)
Gospel show

Stars of the TCB Cruise: Donna Presley, Linda Thompson, Donna Tutt, Glen D. Hardin, Sam & Louis Thompson, Ginger Holladay, Larry Strickland of the Stamps Quartet, Donna Rhodes, Paul Leim & Dennis Jale
Autograph sessions with all of Elvis' companions
Meet & Greet with all the stars of the TCB Cruise
Lady's Talk-show with Linda & Louise Thompson, Donna Presley and Donna Tutt
Talk-shows with the original musicians of the King
Elvisland as a daily meeting point
Elvis-Cinema
Elvis disco including karaoke "Sing like the King"
Farewell meeting with all the stars of the cruise on the last evening on the ship
ROCK THE BOAT!
Would you like to be on board and experience the rockiest cruise? Then book yourself in today. You will find a lot more information about all included services and the exact route in the attached booking form.
Not included
the journey to the port of Trieste
Obligatory travel insurance with cancellation and corona protection
Shore excursions during the cruise, Personal expenses for spa, massage, hairdresser and extra drinks (plus 15% service charge)
Your personal TCB-GEO-Contact
Birgit Sacher
GEO Reisen & Erlebnis GmbH
Hofhaymer Allee 40
AUSTRIA – 5020 Salzburg
Tel.: +43 662 890 111 – 214 (Fax 109)
birgit.sacher@geo.at
TCB CRUISE 2023
COME AND JOIN US
Dennis Jale • Glen D. Hardin • Paul Leim • Linda Thompson • Donna Presley • Sam Thompson • Louise Thompson • Ginger Holladay • Larry Strickland from the Stamps Quartett • Donna Rhodes • Donna Tutt